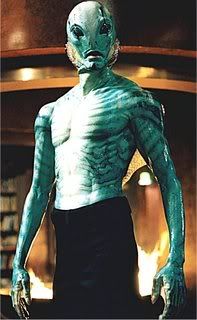 Olympic gold medalist Michael Phelps apologized today for "bad judgment" and "regrettable" behavior, following a British newspaper's publication of a photograph in which the swimmer appears to be using a product that is not a sponsor of the US Olympic Committee.
Published Saturday in The Scutter, the picture showed the winner of 14 gold medals smoking a marijuana pipe.
Team USA sponsor Anheuser-Busch and worldwide sponsors Tsing Tao and Yanjing Beer voiced displeasure over the news that Phelps was not getting a buzz with their products.
Anheuser-Busch spokesman Clyde S. Dale did not mince words. "We paid millions to put our name on the Games, is it too much to ask that this freak of nature remember to have a bottle of BL Lime in his hand when there are cameras around?" Dale asked.
The US Olympic Committee quickly responded, issuing a statement on Sunday upbraiding Phelps for failing to "fulfill his responsibilities as a consumer role model."
Phelps, speaking Sunday to sports journalists over cocktails at the Orioles Grill in the Baltimore Sheraton Hotel, was contrite. "I used bad judgment associating my name with a product that is not part of the Olympics' system of sponsor endorsements. Instead, I should have kicked back and relaxed with a Budweiser," said Phelps.
"By making the mistake of smoking pot, I put profits into the hands of only a few growers and distributors, instead of the international multimedia money-generating machine that is amateur athletics," he added.
"For doing that, I am sorry."