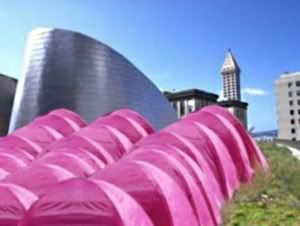 After years of being hustled from site to site in an almost endless game of musical chairs, Nickelsville, the Seattle encampment for the homeless, thinks it has finally found a long-term home.
The city of pink tents, named in honor of Mayor Greg Nickels, has relocated to downtown Seattle only a stone's throw from the Columbia Center, the Rainier Club, and other prestigious addresses.
It is an overgrown parcel on the roof of unused municipal property. Nickelsville leader Ernie Frandle said a check of public records revealed it is called City Hall.
Standing in midtown Nickelsville this morning, Frandle called it a perfect site for homeless people.
"From our perspective, absolutely nothing is happening at City Hall, no activity at all. So we should be able to stay for a long time," Frandle said, as reporters dodged tumbleweeds.
A resident who gave her name as Clara is happy with the new digs, saying, "from here we'll be able to look down on people for a change."
One floor down, Mayor Nickels said he is happy to host the camp until after the November election. "The camp won't get in the way of anything I'm doing, since I get most of my work done over at Paul Allen's office and the Downtown Seattle Association."
However said the mayor, Nickelsville should find another location after he begins his third term.
"Because being homeless means having to stay on the move, right? A permanent address would kind of defeat the purpose," Nickels said.
[Google Images: Seattle's green city hall]