The mystery around the disappearance of Glenn Beck's sanity was solved yesterday, when his inner child was freed from the makeshift prison behind a house in Escher, Washington, where he had been held captive for the past 18 years.
Authorities went to the ramshackle home early Friday, after receiving reports of shooting pains behind the eyes and incessant chattering of millions of tiny demons. There they discovered a secret compound within the prefrontal region of the right hemisphere of the Fox News personality's brain. Several makeshift constructs provided shelter amid the dissociative disorder, screened from the outside world by a hedge of overgrown amnesias.
Arrested at the scene was the house's owner, Beck's own dominant personality, "Big Glenn." He confessed to the kidnapping and is now being evaluated by a brain care specialist.
The inner child was able to identify himself under hypnosis. "We're going to wait for the word association and Rorschach tests, but at this point we're 99% confident it's him," said Escher Police public information officer Harley D. Spiedtrapp.
Glenn Beck has lived in fear of liberals, Communists, fascists, and Depression era bas reliefs ever since his inner child was abducted in broad daylight in 1991. It happened in front of his family's home in Mount Vernon, just down State Route 20 from small, dusty and rarely visited Escher.
News of the inner child's discovery brought tears of joy to Beck's lesser, submissive personality "Wee Glenn," who witnessed the abduction. During a brief appearance Friday night in front of the Mount Vernon house, Wee Glenn cried with relief as he recalled the suspicion that fell on him, chiefly accusations made by maternal enabling personality "Aunt Glenda."
"She said it was all my fault. Until yesterday I was a suspect," said Wee Glenn. Pointing to the upstairs window from which he saw the inner child being dragged away all those years ago, he said he tried to run outside to give chase. "But the stairs going down kept taking me back up," he said.
Medical staff at St. Copay Memorial Hospital in Mount Vernon said Beck's inner child has been reunited with his family of personalities, but said reintegration could take many years.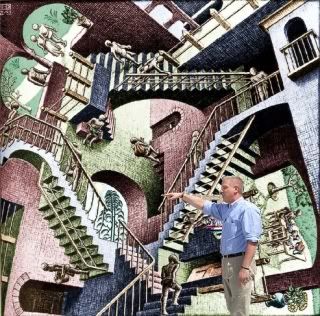 +
Where it happened
Wee Glenn Beck points to bedroom window where he witnessed inner child's abduction